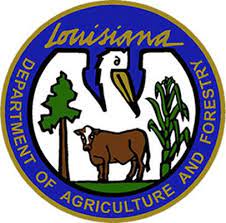 Job Summary

The Louisiana Department of Agriculture & Forestry ('LDAF') is seeking an Agricultural & Environmental Specialist Administrative Program Coordinator (Seed Testing Laboratory Manager) in our Seed Testing Laboratory.  

The Louisiana State Seed Testing Laboratory is a function of the Seed Programs; a division of LDAF. The laboratory is housed within the LDAF headquarters located in Baton Rouge, LA. The primary purpose of the Program is to ensure compliance with the Louisiana Seed Law and rules & regulations, and to assist in the enforcement of the Federal Seed Act. The laboratory also functions as a fee-based testing facility for a wide range of crop kinds. Additionally, the laboratory conducts seed quality tests on certified samples collected and tested in conjunction with the Louisiana Seed Certification Program.  

This position is headquartered at the Main LDAF Office Complex located at 5825 Florida Blvd., Baton Rouge, LA.  

This full-time position offers competitive pay and great benefits. The employment package includes at least eleven (11) paid holidays, an ample amount of sick leave, multiple health and life insurance options, and an excellent retirement plan.

Position Summary:    

This position will work will all aspects of regulatory and fee-based seed inspection, sampling and laboratory testing of agricultural, vegetable, and grass crops. Assist in directing, planning, implementing, and administering statewide seed sampling, testing and regulatory enforcement program activities to ensure that seed products meet all state and federal labeling and quality requirements.
Position Qualifications and Abilities:    

1. Possess and maintain recognized AOSA/SCST certifications in seed germination and/or purity testing.  
2. Proficient computer skills in Microsoft Office products
3. Possess a high level of verbal and written communication skills
4. Ability to attend, participate and represent the LDAF in training and industry meetings that may require overnight domestic travel  
5. Work with a diverse group of professional level colleagues  
6. Willingness to maintain a high standard of public service

It is critical that you clearly identify and describe your training and experience on your resume and letter of experience in the following areas:
1.) Working experience in a seed testing laboratory and/or laboratory management leadership role (developing short/long term strategies; establish/oversee objectives/priorities/deadlines; developing/implementing laboratory procedures; evaluation principles/techniques; etc.)  
2.) Serving as a technical resource and/or liaison developing and providing technical expertise, outreach and materials for internal and external stakeholders (determine training needs, develop, interpret and present training plans, materials, fact sheets, website content, etc.)

 A well-qualified candidate will also have experience, certification and/or training in the following areas:  
1.) AOSA Rules for Testing Seeds
2.) Successfully qualified for and passed the RST, CSA-P or CSA-G exam or equivalent
3.) Ability to develop, review, and revise rules, laws, policies and laboratory procedures 
How To Apply:    

Click here to view access the Louisiana Civil Service website. 

To be considered for this position, you will need to create an account and apply online. You are required to upload a current resume and are also encouraged to upload a cover letter/summary of experience.  

Application materials must be submitted by 11:59pm on the deadline date.  

Your resume and cover letter will be evaluated by one or more job experts. Candidates who are deemed eligible will be invited to participate in the next step of the selection process. Please address questions regarding the application process to bevans@ldaf.state.la.us.  

Current Louisiana state employees who are eligible for consideration must also complete the application process to be considered for this position. 
To view the complete document, please click HERE.